---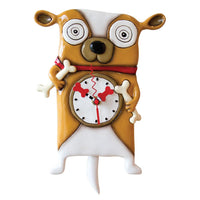 Allen Designs strives to bring smiles to people faces through creative quality and functional products.  Michelle Allen is the sole, creative talent behind Allen Designs.  She has never found anything completely flawless in life and yet she finds beauty everywhere. She loves the imperfect, slightly eccentric, witty quality of the world she sees around her.  You'll fall in love with her whimsical designs.
Approx. Measurement:  11.75" x 8.25"

Individually casted in polyresin, finished by hand and then hand-painted

Swing pendulum

Requires "AA" battery - not included

Sku:  1290
Isn't this dog a character? Roofus is full of personality and charm! His goofy grin and wide eyes are sure evidence of his charisma. With his happy tail wagging, Roofus is sure to bring a smile when checking the time.