---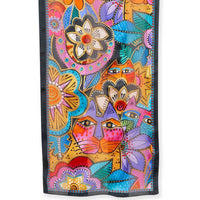 Sale
Relying on intuition, and the belief that if she spoke from her heart, all else would follow, Laurel Burch™ has attracted legions of fans all over the world. Her creations have become bridges to friendships and patrons crossing the boundaries of age, race, countries, and cultures.
Material:  100% Pure Silk

Approx Measurement:  53"L x 11"W

Sku:  lbs212

Final Sale
Every time you wrap this beauty around your waist or drape it over your shoulders, you surround yourself in a vibrant, lovely image adapted from one of Laurel's magical paintings. This lightweight, elegant silk scarf is a delight to give or keep.