---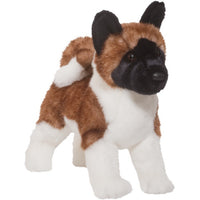 Since 1956, Douglas® is one of the oldest and most respected plush companies in the United States. Their success comes from unique designs, high quality materials, and craftsmanship. Their classic animals have gestures and expressions that clearly distinguish them as Douglas®. Their faces evoke a sense of connection and endearment. They are known for offering the unusual breeds and hard-to-find species.  

Cute stuffed animal with ultra soft plush fur

Approx. Measurement:  8" x 12" x 5"


Sku:  1994
The Akita is honored as a natural monument in his home country of Japan and it's easy to see why! The Akita is a powerful breed with a handsome appearance and a noble bearing. We've encapsulated these breed specific traits in Kita, our lifelike plush Akita dog! Crafted in appealingly soft white and brown plush fur, Kita features a black face mask and the curled tail typical of this spitz breed. Durable, resilient polyester fill within gives him a sturdy stance that's perfect for play or display but still soft enough for cuddling. Invite this realistic plush dog to watch over your home and the faithful Kita will stand loyally by your side!