---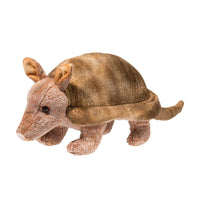 Sale
Since 1956, Douglas® is one of the oldest and most respected plush companies in the United States. Their success comes from unique designs, high quality materials, and craftsmanship. Their classic animals have gestures and expressions that clearly distinguish them as Douglas®. Their faces evoke a sense of connection and endearment. They are known for offering the unusual breeds and hard-to-find species.  

Cute stuffed animal with ultra soft plush fur

Approx. Measurement:  11" x 5" x 5"


Sku:  4100

Final Sale
Armadillos are usually too busy foraging for tasty bug snacks to realize just how unique they look! And Tex, our cuddly plush Armadillo is no different! With a long snout and excellent sense of smell, Tex can sniff out all the best places to dig for his favorite food. Sandy colored materials with lifelike textures come together to give this relative of anteaters and sloths a touch of realism. Tex's rounded shell protects him from predators while four short legs and a long, tapering tail complete his distinctive look. Bring home this unique creature for someone special or keep him for yourself, Tex the plush Armadillo is a fun and unusual friend!