---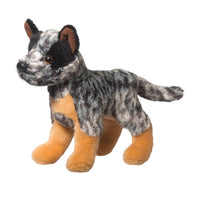 Since 1956, Douglas® is one of the oldest and most respected plush companies in the United States. Their success comes from unique designs, high quality materials, and craftsmanship. Their classic animals have gestures and expressions that clearly distinguish them as Douglas®. Their faces evoke a sense of connection and endearment. They are known for offering the unusual breeds and hard-to-find species.  

Cute stuffed animal with ultra soft plush fur

Approx. Measurement:  4" x 7" x 3"


Sku:  4021
Who's that steely colored blur moving across the landscape? Why, that's Clanger, our plush Australian Cattle Dog, driving an unruly herd of cows across the rugged Outback! Descended from English herding dogs and Australian dingoes, these are hardy and intelligent dogs who love to work. Our lifelike stuffed animal captures the striking looks and independent spirit of this energetic breed. Clanger features a mottled blue merle coat complete with tan markings and black patches over his face. His bright, amber colored eyes lend him an engaging, lifelike appearance that will endear him to dog lovers of all ages. Adopt Clanger for your own today and this talented Cattle Dog is certain to round up some fun!