---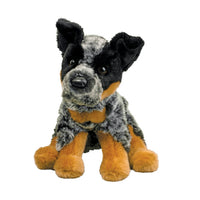 Since 1956, Douglas® is one of the oldest and most respected plush companies in the United States. Their success comes from unique designs, high quality materials, and craftsmanship. Their classic animals have gestures and expressions that clearly distinguish them as Douglas®. Their faces evoke a sense of connection and endearment. They are known for offering the unusual breeds and hard-to-find species.  

Cute stuffed animal with ultra soft plush fur

Approx. Measurement:  12" x 10" x 8"

Sku:  1966
Handsome and lively, Dexter the Australian Cattle Dog stuffed animal is an eye-catching canine who won't accept any nonsense from the cows he herds! Black facial patches and tan markings accent his blue mottled coat for an authentic Cattle Dog appearance. Traces of dingo in Dexter's ancestry lend him his upright ears and athletic build. A folded, leatherette nose and detailed jowls accompany his soulful, amber colored eyes for a look that will make fans of this popular breed swoon with delight. Dexter's floppy body style is enhanced with beans in his paws for an easy to pose and fun to cuddle design. If you're looking for a loyal plush friend, it doesn't get much better than Dexter the Australian Cattle Dog!