---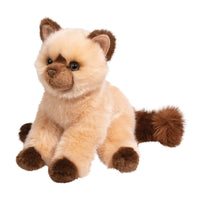 Sale
Since 1956, Douglas® is one of the oldest and most respected plush companies in the United States. Their success comes from unique designs, high quality materials, and craftsmanship. Their classic animals have gestures and expressions that clearly distinguish them as Douglas®. Their faces evoke a sense of connection and endearment. They are known for offering the unusual breeds and hard-to-find species.  

Cute stuffed animal with ultra soft plush fur

Approx. Measurement:  12" x 5" x 9"


Sku:  4393

Final Sale
With her beautiful looks and a bright eyed face, Mitzy the floppy Himalayan Cat stuffed animal is a kitten you will want to shower with love and affection! Her endearingly floppy body features a soft, cream colored coat with chocolately brown points. Silky polyester fill and weighted paws give Mitzy a lifelike floppiness that lies realistically across your lap or cuddles into your arms. Gentle blue eyes reveal her sweet personality and will win Mitzy the affections of feline fanciers of any age. From her fuzzy flocked nose to her long fluffy tail, we're sure you'll fall head over heels for the charm of Mitzy the adorable plush Himalayan Cat!