---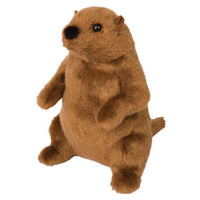 Sale
Since 1956, Douglas® is one of the oldest and most respected plush companies in the United States. Their success comes from unique designs, high quality materials, and craftsmanship. Their classic animals have gestures and expressions that clearly distinguish them as Douglas®. Their faces evoke a sense of connection and endearment. They are known for offering the unusual breeds and hard-to-find species.  

Cute stuffed animal with ultra soft plush fur

Approx. Measurement:  7"


Sku:  4074

Final Sale
Small and alert, Mr. G the Groundhog stuffed animal sits up on his haunches to survey the surrounding area. He's an old pro when it comes to excavation and no one knows dirt like this seasoned Woodchuck. His burly body is made with chocolatey brown plush materials accented with a large black nose and shiny dark eyes. Give him a pet and a snuggly squeeze, Mr. G is crafted to be soft and lovable. Resilient polyester fill within ensures this cuddly critter will be around for hours upon hours of creative play and fun. Instill a sense of wonder and love for our natural world with Mr. G, our endearing and realistic plush Groundhog!