---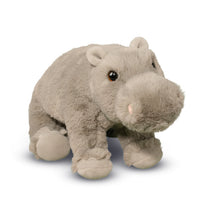 Sale
Since 1956, Douglas® is one of the oldest and most respected plush companies in the United States. Their success comes from unique designs, high quality materials, and craftsmanship. Their classic animals have gestures and expressions that clearly distinguish them as Douglas®. Their faces evoke a sense of connection and endearment. They are known for offering the unusual breeds and hard-to-find species.  

Cute stuffed animal with ultra soft plush fur

Approx. Measurement:  11" x 6.5" x 6.5"


Sku:  15047

Final Sale
If wading around in warm waters and treating yourself to therapeutic mud masks sounds like a fun way to laze away the day, we have the perfect pal for you! Our endearing Hollie the Soft Hippo stuffed animal loves swimming along the banks of the river and wallowing in soothing mud to rejuvenate her skin. This plush Hippo's floppy body style and luxuriously soft materials will make her the go-to friend when it's time to kick back and relax. Scalloped toe details accent all four of her rounded feet and warm, amber colored eyes create Hollie's lifelike expression. Give in to the charms of our snuggly Soft Hippo plush and you'll have a spa day companion for life!