---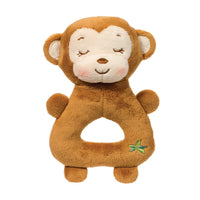 Sale
Since 1956, Douglas® is one of the oldest and most respected plush companies in the United States. Their success comes from unique designs, high quality materials, and craftsmanship. Their classic animals have gestures and expressions that clearly distinguish them as Douglas®. Their faces evoke a sense of connection and endearment. They are known for offering the unusual breeds and hard-to-find species.  
Approx. Measurement:  7.5" x 4" x 3.3"


Sku:  1298

Final Sale
A baby classic in a fresh, soft and ultra sweet style. Luxurious fabrics in an easy-to-hold shape perfect for little fingers. A lovely addition to the Gentle Little Monkey Collection this monkey baby rattle is in a warm brown plush with cream and light blue accents. Sweet foliage embroidery adds a fun detail. Simple, classic rattle sound when moved.