---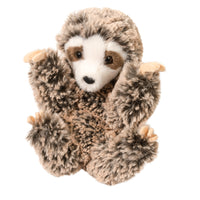 Since 1956, Douglas® is one of the oldest and most respected plush companies in the United States. Their success comes from unique designs, high quality materials, and craftsmanship. Their classic animals have gestures and expressions that clearly distinguish them as Douglas®. Their faces evoke a sense of connection and endearment. They are known for offering the unusual breeds and hard-to-find species.  

Cute stuffed animal with ultra soft plush fur

Approx. Measurement:  6"


Sku:  1519
Pick me up! With his outstretched arms and heart warming expression, Slowpoke, our tiny Lil' Baby Sloth stuffed animal is begging to be held! Featuring a fun, interactive pose, he's a charming friend to cuddle and love. Luxurious cappuccino tipped plush fur and quality polyester fill make this jungle critter squeezably soft and a delight to hold. Lifelike facial markings and a fuzzy flocked nose give him a realistic look that animal lovers will find irresistible. Slowpoke cradles perfectly in the palms of your hands and looks pretty adorable peeping out from a pocket too. Pick up our sweet rainforest baby today, Slowpoke is a plush Sloth like no other!