---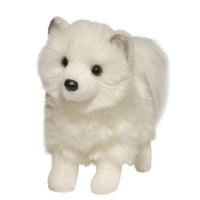 Since 1956, Douglas® is one of the oldest and most respected plush companies in the United States. Their success comes from unique designs, high quality materials, and craftsmanship. Their classic animals have gestures and expressions that clearly distinguish them as Douglas®. Their faces evoke a sense of connection and endearment. They are known for offering the unusual breeds and hard-to-find species.  

Cute stuffed animal with ultra soft plush fur

Approx. Measurement:  9" x 6" x 4"


Sku:  1704
Douglas specializes in creating distinctive plush representations of dog breeds that are rare and hard to find! Phoebe is a cuddly plush Pomsky, a lovable mix of Pomeranian and Husky. Her alert, triangular ears and a fluffy plume tail that curves over her back can be attributed to her spitz breed heritage. She has been designed with a bright white coat of soft plush fur and an elegant stand up pose. Phoebe's small paws and snout lend her a touch of daintiness and charm, while soulful, golden eyes give this lively stuffed animal a lifelike expression that will engage with dog lovers of all ages. Don't miss out on this endearing charmer, bring home an unusual plush puppy today with Phoebe the Pomsky!