---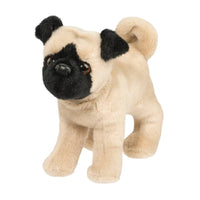 Sale
Since 1956, Douglas® is one of the oldest and most respected plush companies in the United States. Their success comes from unique designs, high quality materials, and craftsmanship. Their classic animals have gestures and expressions that clearly distinguish them as Douglas®. Their faces evoke a sense of connection and endearment. They are known for offering the unusual breeds and hard-to-find species.  

Cute stuffed animal with ultra soft plush fur

Approx. Measurement:  8"


Sku:  3985

Final Sale
Hamilton is our 8" plush Pug. He is a playful pup who is happiest when he's with the people he loves. With his round head and expressive facial features, Hamilton is an accurate depiction of the Pug dog breed. Wrinkly details and an adorably curly tail complete Hamilton's look and add to the realism of this stuffed toy. The black and fawn coat of this plush are made with high quality materials chosen for their softness. Pick up this whimsical little puppy and you won't want to put him down! A perfect friend for Pug lovers of all ages, bring Hamilton and his lovable personality home to you today.