---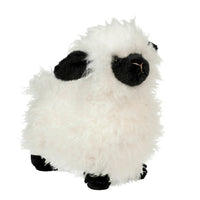 Sale
Since 1956, Douglas® is one of the oldest and most respected plush companies in the United States. Their success comes from unique designs, high quality materials, and craftsmanship. Their classic animals have gestures and expressions that clearly distinguish them as Douglas®. Their faces evoke a sense of connection and endearment. They are known for offering the unusual breeds and hard-to-find species.  

Cute stuffed animal with ultra soft plush fur

Approx. Measurement:  6.5"


Sku:  1532
Brimming with a hefty dose of cuteness, Shiloh is a fleecy plush Lamb that will win your heart in an instant! Perfectly pick up-able, Shiloh's small size makes her a cuddly handful of fluff that'll look right at home nestled amongst your springtime décor or in your pocket for on-the-go fun. Soft, textured plush materials create Shiloh's woolly appearance, while her sweet dark colored face features stitched details and small, black eyes that shine with enthusiasm. Let this adorable mini sheep stuffed animal frolic her way into your home. Shiloh is sure to make a charming addition to any flock!