---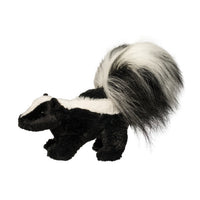 Since 1956, Douglas® is one of the oldest and most respected plush companies in the United States. Their success comes from unique designs, high quality materials, and craftsmanship. Their classic animals have gestures and expressions that clearly distinguish them as Douglas®. Their faces evoke a sense of connection and endearment. They are known for offering the unusual breeds and hard-to-find species.  

Cute stuffed animal with ultra soft plush fur

Approx. Measurement:  8"

Sku:  4117
Watch out! With his bold black and white markings Striper the Skunk stuffed animal is one critter that is sure to catch your eye! Though, rest assured, Striper is all of the charm of this unique woodland creature without any of the stink! His realistic pose and lifelike plumed tail make him ideal for educational creative play that will contribute to an awareness of and love for the natural world. His tiny rounded ears and bright eyes give Striper an engaging expression that will make him a favorite with animal lovers of all ages. Cuddly plush fur makes Striper the Skunk not only fun but soft and huggable too! Make him yours today and experience the magic of a Douglas original!