---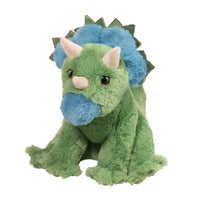 Since 1956, Douglas® is one of the oldest and most respected plush companies in the United States. Their success comes from unique designs, high quality materials, and craftsmanship. Their classic animals have gestures and expressions that clearly distinguish them as Douglas®. Their faces evoke a sense of connection and endearment. They are known for offering the unusual breeds and hard-to-find species.  

Cute stuffed animal with ultra soft plush fur

Approx. Measurement:  10" x 8" x 9"

Sku:  4607
The rough and tumble life is what Roarie the Soft Triceratops Dinosaur stuffed animal loves best! Don't let that fool you into thinking he doesn't love a good snuggle every now and then though! This young Dino features a fun green and blue design with cloud soft materials that will melt into your hands. Resilient polyester fill within ensures our boisterous baby Dino will bounce back after every playtime tussle. Detailed with three facial horns and a row of soft spikes around the edge of his head frill, Roarie will bring excitement to every Dinosaur lover's day. Let your imagination be carried away by Roarie's engaging expression, there's a world of prehistoric fun waiting for the two of you!