---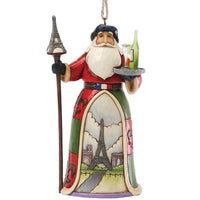 Jim Shore creates his popular works of art based on his deep appreciation of hand-painted and handcrafted quilts with folk art textures.  Jim Shore's unmistakable style evokes a sense of nostalgia with traditional themes, quilt patterns and design motifs inspired by American and European.  From show-stopping Statues to Mini Figurines, from Santa Claus to Mickey Mouse, Jim Shore has something for everyone.
Approx. Measurement:  4.25" H
Material:  Stone Resin

Sku: 

 

4034399
For many French families, Christmas Eve starts with a festive uncorking of a bottle of champagne, using a sabre. French Santa looks ready for the job, sporting a Gallic beret for the occasion. The iconic Eiffel Tower and fleur-de-lis are also featured.