---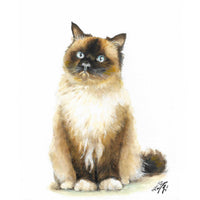 Original art by the artist Lawrence Tsan Fei Lu:
Profiled in the year 2001 edition of Marquis Who's Who in the World.
Profiled in World Culture Celebrity Dictionary - Chinese People, ISBN 7-80128-196-9.
Profiled in The World Famous Chinese Artist Almanac.
Won the Award of Excellence "A Musician" in 1997's National Art Competition, NAT Elocution Center, New York.
Solo and group exhibitions throughout US and Asia since 1971.
Artworks collected by Music School of University of Alabama, Yo-Yo Ma, Peter Serkin (Portrait of Rudolf Serkin), and many other personal collections.
Please note that the color of artwork may look slightly different than the displayed image due to the resolution of the scan and differences in screens.  The actual work looks a lot nicer showing the intensive details of vivid colors, vibrant lights and brilliant brush strokes, etc. 
Original Artist Signed Oil Painting 
Premium Canvas Panel Board
Unframed
8" x 10"
Final Sale